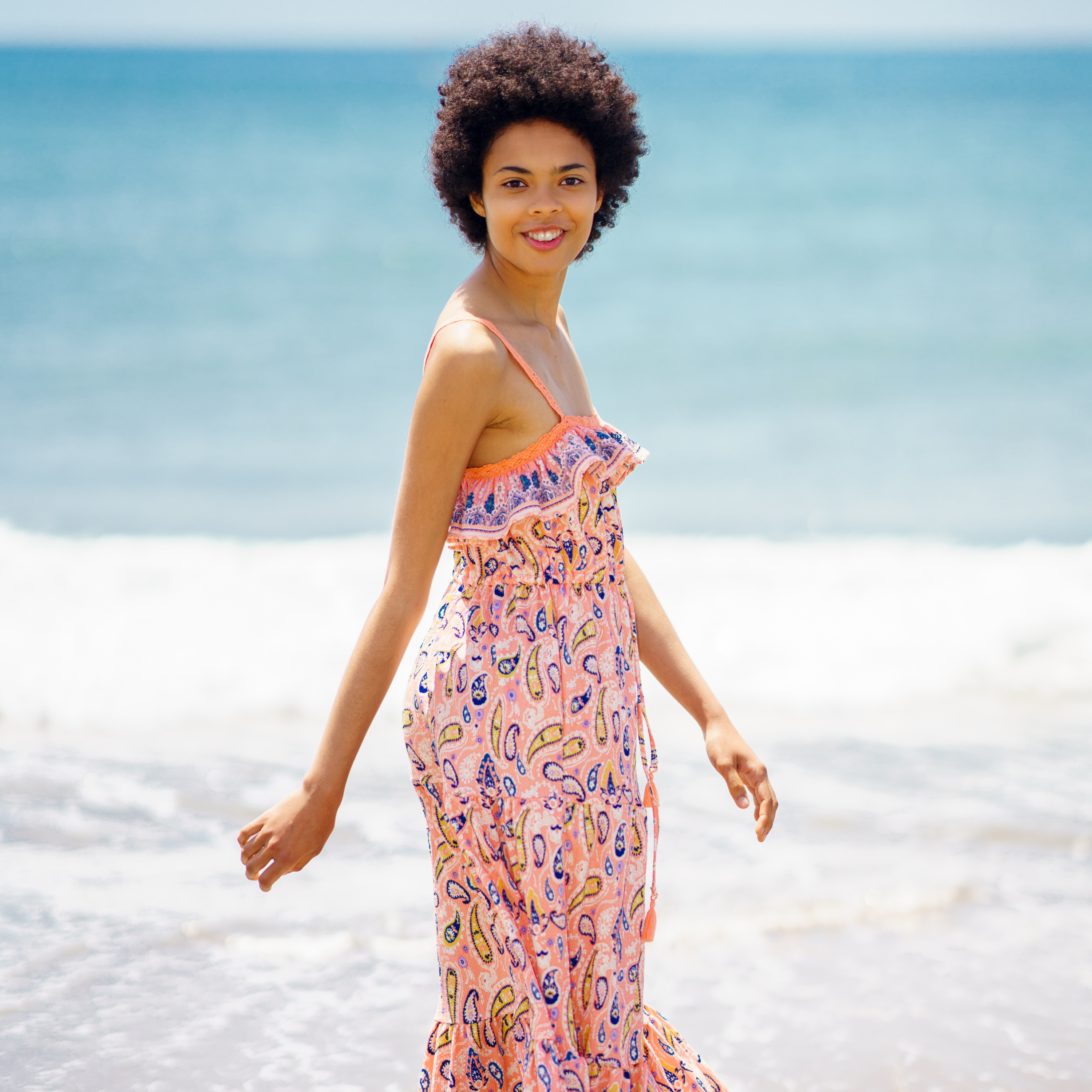 Heading to Paradise? Here's What You'll Need to Pack
Are you dreaming of a tropical vacation with sun-kissed beaches and crystal clear waters? If yes, it's time to start packing! But what to bring? Don't worry, we've got you covered. Here's a comprehensive list of what to pack for a 7-day tropical resort vacation.

Clothing:

Tropical climates are hot and humid, so it's important to pack lightweight, breathable, and comfortable clothing. Opt for fabrics like cotton, linen, or rayon, which are breathable and don't cling to your body. 

- Dresses: Pack a few casual dresses that you can wear during the day or dress up for dinner. Choose sleeveless or short sleeve dresses in bright colors or floral prints. There are some cute UPF dresses on the market that are stylish and functional.
- Shorts and Skirts: Choose comfortable and easy-to-wear shorts and skirts that you can mix and match with different tops. Go for high-waisted shorts or A-line skirts in lightweight fabrics like cotton or linen.
- Swimsuits: Pack a few different swimsuits so you can switch them up throughout the week. Opt for bikinis or one-piece swimsuits in bright colors or bold prints.
- Cover-ups: Don't forget to bring some cover-ups to wear over your swimsuits when you're not in the water. Kaftans, sarongs, or kimonos in lightweight fabrics like chiffon or rayon are great options.
- Tops: Pack a mix of tank tops, t-shirts, and lightweight blouses that you can wear with shorts or skirts. Choose sleeveless or short sleeve tops in lightweight fabrics like cotton or linen. Don't forget to pack long sleeve UPF shirts for those days when you will be out exploring. Many UPF fabrics are all-day comfortable and can be worn on even the hottest days.
- Light Jackets or Cardigans: Even though it's hot during the day, it can get chilly at night. Bring a light jacket or cardigan to wear over your outfits. Choose lightweight fabrics like denim or cotton.

Footwear:

Comfortable and practical footwear is key for a tropical vacation. Choose footwear that you can wear for long walks, exploring the destination, or relaxing on the beach.

- Sandals: Pack a comfortable pair of sandals that you can wear to the beach or around the resort. Choose sandals with a flat sole and a secure strap to keep your feet cool and comfortable. Also, bring at least one pair of dressier sandals for evening.
- Sneakers or Walking Shoes: Bring a pair of sneakers or walking shoes for exploring the destination. Choose sneakers that are lightweight and breathable.
- Flip Flops: Don't forget to pack a pair of flip flops for wearing around the hotel or on the beach. Choose flip flops with a rubber sole and a comfortable strap.

Accessories:

Accessories can elevate your vacation wardrobe while also serving a functional purpose. Here are some essentials to pack:

- Sunhat: Protect your face and head from the sun with a stylish sunhat. Choose a hat with a wide brim to provide maximum coverage.
- Sunglasses: Pack a pair of sunglasses to protect your eyes from the sun. Choose sunglasses with UV protection and polarized lenses.
- Beach Bag: Bring a beach bag to carry all of your essentials to and from the beach. Choose a bag that is lightweight and spacious enough to hold your sunscreen, sunglasses, and a book.
- Sunscreen: Protect your skin from the sun's harmful rays with a high SPF sunscreen. Choose a sunscreen with at least SPF 30 and apply it every two hours. Be sure to choose a reef safe sunscreen to protect the reefs from further damage.
- Bug Spray: Depending on your destination, you may need to bring bug spray to protect against mosquitoes and other insects. Choose a bug spray that is non-toxic, if possible.
- Jewelry: Pack some simple and versatile jewelry to add some flair to your outfits. Choose jewelry that won't tarnish in the sun or water, like gold-plated or stainless steel pieces.

In summary, packing for a 7-day tropical resort vacation requires comfortable and breathable clothing, practical footwear, and essential accessories to protect you from the sun. Bon Voyage!